Artwork for Annabelle Oppenheimer
Seed head
Cowslips
Poppy
Conference of birds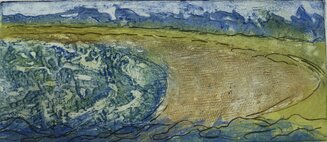 Dog's Bay
Reflections 1
Woodland
Safety in Numbers
Leaf Fall
For you what does being an artist mean?:
Creativity is essential, and making in any form is a part of who I am.  Printmaking for me is a slow meditative process. There is always an element of surprise in the outcome and the results only urge me to return to the process and continue making. 
CV & Education:
Maidstone College of Art 1968-9
Chelsea School of Art, London 1969-72
Goldsmiths College, London 1973-4
Hereford College of Art 1991-3
Practice & Activities:
Studio practice, outdoor drawing in situ. I am happy to discuss commissions and also workshops, though I can only take individuals or maximum of 3 people here in my workroom.
Exhibitions:
h.Art 2014 - open studio
h.Art 2016 - open studio
Erwood Station Gallery - work showing ongoing since November 2014
The Chapel, Bromyard
Joint exhibition Blue Ginger Gallery May 2016
Joint exhibition Blue Ginger Gallery June 2017
h.Art 2017 @ Blue Ginger Gallery Cradley