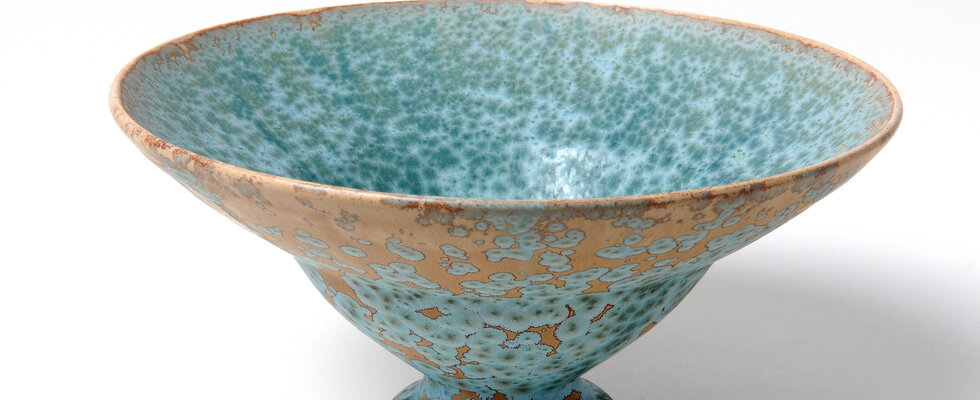 Artwork for Rachel Padley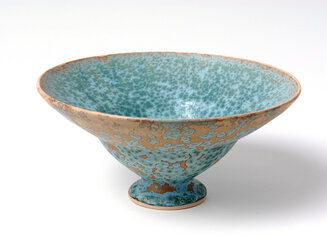 Bowl
Ginger Jars
Teapot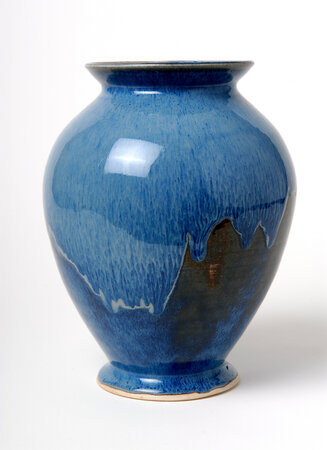 Chun Blue Vase
Red Bowls
Tawney Owl
Girl With Ivy
Greenman
How would you describe the work you do and why?:
I combine my love of throwing pots with my earlier training as a sculptor, producing a wide range of brightly coloured functional pottery, which include bowls , mugs , jugs and vases, alongside sculptural pieces for the garden. My popular "Green man range" is complemented by the bird baths and fountains.
For you what does being an artist mean?:
Art has always been a part of my life. My father was an artist and historian, my mother a ballerina and artists model. The satisfaction of creating a work of art, be it as humble as a mug or as grand as a piece of sculpture, and then have another person value it enough to want to own it is both fulfilling and motivating.
Describe what you call yourself/your practice?:
Your practice & activities include e.g workshops, teaching:
I have a studio just outside Ledbury where I produce and fire all my work. I am a member of the Guild of Herefordshire Craftsmen and of South Wales Potters with whom I exhibit regularly.
CV & Education, relevant & leading to your artistic practice:
Rachel Padley CV
Education
Ledbury Grammar School 1969- 1976
Further training:
St Paul's cathedral : 1976-1977 stone carving
Kennington Art school: BA Hons Sculpture 1978-1981
Malvern College : Part time Ceramics 1998-2000
Career:
Antiques restoration 1978
Conservation of ancient monuments 1981-1983
Ceramicist 2001 –present day
Exhibitions in the last 3 years:
Hereford Guild Christmas exhibition Dec.2019/2021
h.Art 2019/2021
Blue Ginger exhibition Dec. 2021
Malvern Autumn Show 2019/ 2021
RHS Malvern Spring Festival 2019
Three Choirs Festival 2019/2021
Ludlow Artists Gallery Exhibition 2020
International Ceramics Festival Aberystwyth 2019
Hay Festival 2019
Your gallery outlets/stockists:
Timothy Hawkins Gallery Hereford
"Inspired " at Craft Renaissance Gallery , Usk
Oril Cric Gallery , Crichowell
Plas Glyn y Weddw Gallery ,LLanbedrog
The Malthouse Cafe and Gallery Ledbury