Artwork for Catherine Van Giap
Split lemons oil on canvas framed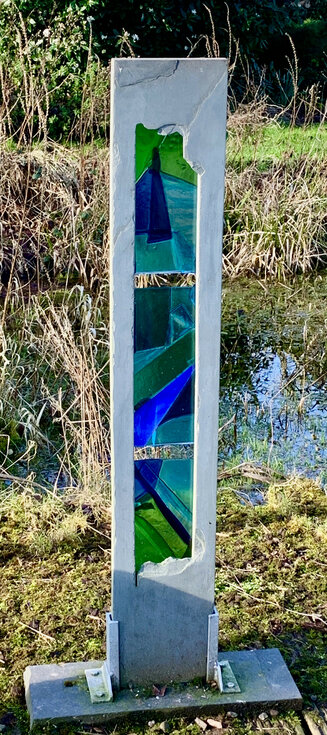 Split lemons stained glass wall hanging
Reflecting glass stained glass wall hanging
Reflecting light stained glass wall hanging
Mosaic apples on a dish
Mosaic still life iris in a glass vase
Mosaic swallow
Mosaic swallow
How would you describe the work you do and why?:
My work is both decorative using stained glass and vintage china within the pieces and also fine art based where I use my oil paintings as inspiration turning them into stained glass wall hangings .
For you what does being an artist mean?:
Being an artist is a way of life that I couldn't imagine living without .I enjoy sharing my passion with others in my classes .I continually challenge myself and strive for individuality within my mosaics being inspired either by one of my recent paintings or a vintage plate that I incorporate into my work .
Describe what you call yourself/your practice?:
I am of professional self taught mosaic artist and tutor recently relocating from the Isle of Wight to Ross-on-Wye. I have run my business Freshwater Mosaics for 18 years.
Your practice & activities include e.g workshops, teaching:
I teach both weekly classes where people can work on a larger projects and also weekend workshops where something can be completed within a day.
CV & Education, relevant & leading to your artistic practice:
Having previously painted I took a break to bring up my young family until moving to the Isle of Wight in 2004 when I took up the medium of mosaic. Its diverse range of subject matter and mediums that can be incorporated within a design is something I always find interesting. My particular favourites are stained glass, vintage china and dichroic accents. Recently retuning to painting I have used my work as inspiration and translate into a stained glass wall hanging thus trying to elevate the medium into fine art and hopefully giving it the respect it deserves. I have taught from my studio for 12 years and offer full tuition either in a one day workshop or weekly classes. I have worked on many commissions both public and private and sell my work via etsy at Freshwater Mosaics
Exhibitions in the last 3 years:
Your gallery outlets/stockists:
Oriel cric gallery Crickhowell