Artwork for Carol Moreton
Rock earrings
Glacial statement necklace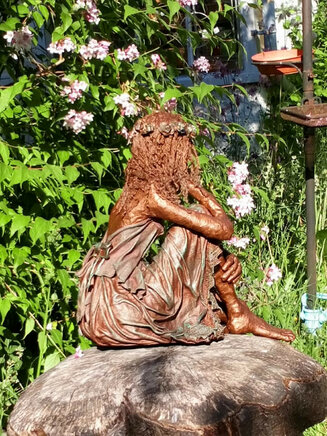 Distress effect statement necklace
Scenic brooch
Glacial Brooch
Two tone purple earrings
Aubergine statement necklace
How would you describe the work you do and why?:
I enjoy blending polymer clay adding pigment inks and other media to create close ups and impressions inspired by the natural world around me on the Welsh Borders.
For you what does being an artist mean?:
Being an artist means losing self and time in colour and landscape, focusing on small details and inflating them. No one piece is the same as blending clay is unpredictable and I love seeing new pieces evolve through experimentation. I can create larger pieces as the clay is very lightweight.
Describe what you call yourself/your practice?:
Pomegranate Collective Jewellery design explores the natural world through texture and colour and large organic shapes.
Your practice & activities include e.g workshops, teaching:
I work from my studio at home, and have provided basic jewellery classes whilst living in Granada, Spain in the past.
CV & Education, relevant & leading to your artistic practice:
I developed Jewellery making skills and artistic experiences over the years starting as a student trying to find ways to supplement a grant/make my own accessories and then alongside a long career in social work.
Latterly I have undertaken an adult Silversmithing course at HCA and several short Silver and Pewter jewellery making courses at Manchester School of Jewellery ( 2020 -23).
Although I enjoy working in silver I prefer the experimentation in colour and exaggerated form that polymer clay provides.
Exhibitions in the last 3 years:
Haymakers Gallery 2021/2
Made in the Marches Gallery 2021/22
h.Art 2021 and 2022
Your gallery outlets/stockists:
Currently 2022/2023 Ludlow Assembly rooms and 2023 Leominster Tourist Information Office, Corn Square, Leominster.