Artwork for Karen Edwards
Karen Edwards, Portal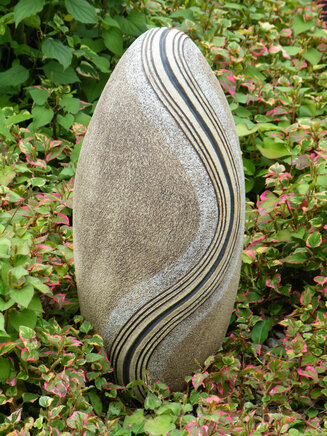 Karen Edwards, Egg
Karen Edwards, Quirkus birds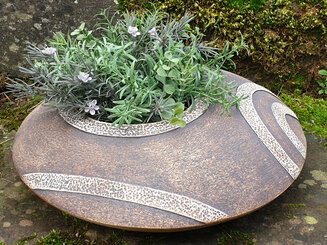 Karen Edwards, Lines & Circles planter
Karen Edwards, Sisters Trio
Karen Edwards, Stack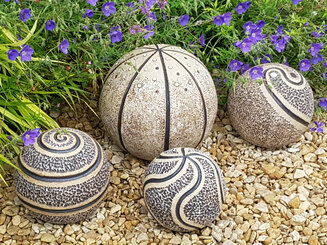 Karen Edwards, Full Stops
Karen Edwards, Segment
How would you describe the work you do and why?:
I make a wide range of handbuilt unique sculptures and planters for use and enjoyment in a garden. My work combines my interests in plants, texture and landscape with my love/addiction for clay. I enjoy the contemplative rhythm of handbuilding my larger sculptural forms but also have fun making smaller items. I want my work to be enjoyed, to provide visual focus throughout the year.
For you what does being an artist mean?:
It's a way of life, I cannot imagine not making things. If someone reaches out to touch a sculpture or a planter that I have created, that response means I've communicated something and that is very important to me.
Describe what you call yourself/your practice?:
Your practice & activities include e.g workshops, teaching:
I work alone in my studio. I am happy for visitors to watch my processes and will explain/answer any questions as best I can.
CV & Education, relevant & leading to your artistic practice:
I studied languages at college. My first career was in business, during which time I started going to pottery evening classes and became totally hooked. As parental responsibilities reduced, I was able to spend more time with clay. Largely self-taught, I have been self-employed since 2005. A committee member of Westcountry Potters Association since 2003, I have organised and attended numerous demonstration days and workshops as well as visiting ceramics events and exhibitions. A part-time course at Bridgwater College in 2000 introduced me to handbuilding and I haven't stopped since. Ceramics is such a huge discipline, there is always something new to explore, although the kiln always has the last word.
Exhibitions in the last 3 years:
University of Bristol Easter Sculpture Festival 2019, 2021, 2022
North Somerset Arts Week 2021, 2023
Art at Delamore, Cornwood, Devon
Affordable Garden Art, Showborough House
Cotswold Sculptors Association Creating Spaces 2021, 2022, 2023
Bishop's Palace Garden, Wells, Somerset, solo exhibition 2022
RHS Garden Rosemoor Winter Sculpture Exhibition, 2021, 2022
Your gallery outlets/stockists:
I have a retail display at my studio and participate in various sculpture events each year.